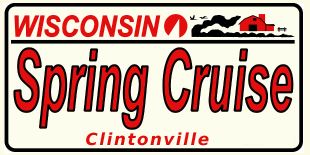 SHOW US YOUR STUFF!
The Spring Cruise Car Show is an annual event, taking place on the third Friday in May in downtown Clintonville, Wisconsin.
This event will take place on the "Main Drag" from 5 to 9 p.m. and will be held rain or shine. Dash plaques will be awarded to the first 200 cars registered for the show. A concession stand will be available and a 50-50 raffle will also be held. Music and announcements will be provided throughout the evening by Dr. Rock.
First place and runner-up trophies will be presented in fifteen categories, as well as special awards for the Mayor's Choice, Police Chief's Choice, and the Chamber's Choice.
Download our 2022 entry form for full details.
Categories: Organizations-Associations-Clubs, Organizations-Associations-Clubs, Recreation, Organizations-Associations-Clubs, Service, Organizations-Associations-Clubs, Service, Transportation