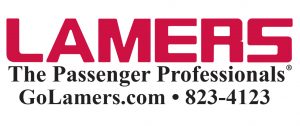 Who We Are
Lamers Bus Lines is a premier transportation company with divisions that specialize in school route contract services, charter services, escorted tours and custom tour planning. Lamers is a one-stop transportation source with a large, meticulously maintained fleet of vehicles that include: school buses, deluxe motor coaches, executive coaches, mini-coach buses, trolley buses, vans, limousines, limo coaches, and specialized medical transport vehicles.

Why Choose Lamers Bus Lines?

• Lamers is Wisconsin and the Midwest's largest transportation solutions provider established in 1944. In addition, Lamers is one of the top 10 operators in the United States and is the 14th largest motor coach operator in the nation.
• Lamers has the most comprehensive back-up plan. Lamers' staff is on-call 24 hours a day, 7 days a week.
• Lamers is an exclusive member of and meets the stringent standards of the International
Motor Coach Group, Inc. (www.imgcoach.com) with 50+ affiliate members across the United States and Canada.
• Lamers operates from more than 30 Wisconsin-based, 3 locations in Michigan's Upper Peninsula, and 1 Florida-based terminal, with a large fleet of vehicles, and its own meticulous maintenance staff.
• Lamers has the highest ratings from the Department of Defense & Transportation, and is an approved carrier by the Transportation Safety Exchange.
• Lamers carries more than the government mandated amount of liability insurance.
• Lamers employs its own full-time safety director.
• Lamers specially trains its drivers to meet stringent, above-average standards.
• Lamers maintains a standard exceptional style of service with the most experienced, knowledgeable, and efficient charter consultants.
• Lamers' repeat customers include professional & semi-professional sports teams; United States military; area corporations, municipalities, hospitals, universities, service organizations, about 40 Wisconsin school districts, and many more.
• Lamers provides tour planning services for private groups.
• Lamers provides unparalleled service at competitive rates!
• Lamers has its own mobile driver training simulator.
Categories: Transportation, Trucking
Lamers Bus Lines
123 Waupaca Street
Clintonville, WI 54929