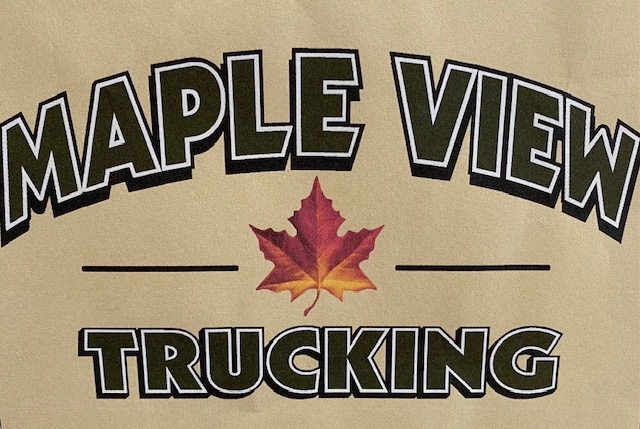 Who We Are:
We are a family-owned business based out of Clintonville, Wisconsin.  Don Olmsted Trucking, LLC, d/b/a Maple View Trucking, is a local intra-state dairy transportation company.  As proud supporters of Wisconsin Dairy Farmers, Maple View Trucking serves as a link between many great Wisconsin dairy farms and the milk processing plants.
Growth
Since 1998, Maple View Trucking has steadily grown over the years.  What started with one truck has grown into a fleet of 19 trucks and counting, along with nearly 40 tankers that our trucks pull down the road. The way milk is hauled has changed dramatically over the years.   As dairy farms continue to evolve, growing larger in size and becoming more technologically driven, so do we.
We Take Pride in our Equipment
Maple View Trucking takes great pride in providing its drivers with pristine and well-maintained trucks and tankers.
Our Drivers
We couldn't be prouder of the men and women that drive for us, many of whom have been part of our team for quite some time.  Dedicated. Driven. Professional.  Safe. Friendly.  Persevering. Cooperative. Patient.  These are just a few words that describe the men and women of Maple View Trucking.  We appreciate every single one of them.
Community
What better place for a trucking company to call home than Clintonville, Wisconsin – Home of the Truckers?  Call it coincidence – call it fate – we call it home. Maple View Trucking appreciates and proudly supports the community of Clintonville and it's many local and school-based organizations.
Wisconsin Dairy Farms
When it comes to Wisconsin Dairy Farms, although we may be bias, we're quite certain that we haul for some of the best!  Maple View Trucking proudly supports Wisconsin Dairy Farms and many of the great organizations that help shine light on the numerous hardworking farmers that provide quality, nutritious dairy products to families all across our great nation.
Join Our Team!
We are currently looking for CDL Class A truck drivers 
(direct ship as well as farm pick up).
We are also looking for a certified Diesel Mechanic.
Full-time and Part-Time Opportunities for all positions.
Call 715-853-7938 or fill out the information below to Apply!
Maple View Trucking is an Equal Opportunity Employer.
Apply for our open positions here→https://mapleviewtrucking.com/employment-opportunities
Maple View Trucking specializes in local transportation of Wisconsin dairy products (milk, whey and cream).
Categories: Transportation, Trucking
Maple View Trucking
540 Commercial Avenue
Clintonville, Wisconsin 54929 United States
[email protected] (Main)